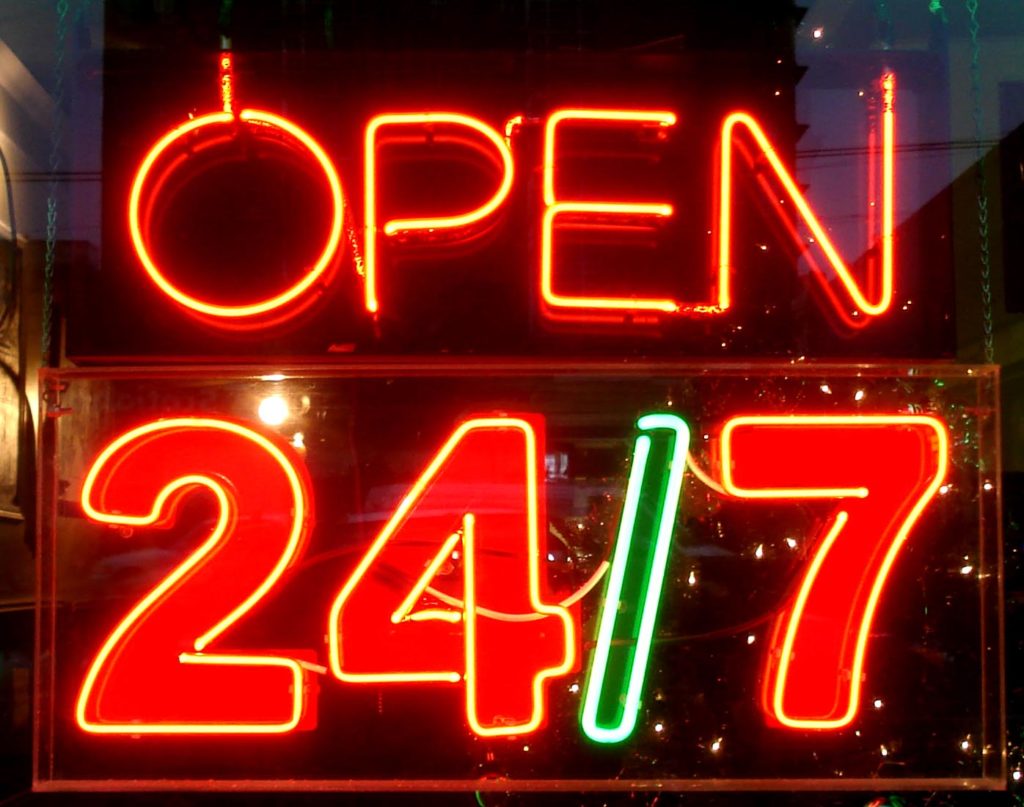 Sometimes it's like a shop without a shopkeeper. You get to a company's website, you are seriously interested in their products or services, but would like to know more before you sign-up or draw your credit card. Or you bought something that you are not completely satisfied with and return to the shop (the site) to find out that there is nobody there to talk to. Most sites have a contact form to send a message, but that it like posting a letter in a mailbox when you are standing right next to the guy you want to talk to. More and more sites offer a chat function to have immediate interaction.
From real world shopping we know there is a fine line of having someone close by to help you find the right size of shirt, and being stalked through the shop and repeatedly having to reject unnecessary help. The same applies, probably even stronger, to chat widgets online. You don't want them to popup continuously, but when you use them you want your questions answered promptly and correctly.
Sites like Facebook and Alibaba show your potential customers how fast you respond to questions. When the competition answers within hours rather than days, you need to do at least the same, if you want to be considered a preferred supplier.
Some companies are particularly good at this. I have had particularly great experiences with two companies in the area of internet domain registrations: international giant GoDaddy and Hong Kong based uDomain. Both don't offer chat, but a local phone number. They pick up the phone in seconds and stay with you until the problem is solved or the sale is made. And it doesn't matter what time of the day (or night) you call. Fierce competition seems to have driven these companies to deliver excellent around the clock customer service.
For a small local company, with employees in a single time zone, that can be quite a challenge. Your options include: introduce working in shifts; set alarms to check for messages or, a little bit smarter, set an ITTT (If This Then That) alarm; outsource it to a specialized support company; setup a small office in Europe (ideal for overlapping working times with US and Asian time zones). Or you do the next best thing: setup a bot, to do the work for you.
Simple (cheap) chat bots can be configured to respond to initial simple questions like, "what are your opening times?", or "how can I sign up?" They can suggest certain actions and information sources, and they can ask for email addresses for follow up by a human. They serve as an excellent gatekeeper to filter out the less relevant leads. More advanced chat bots are also becoming available for small and medium sized companies. Those bots can to a certain degree understand natural language queries and respond using (seemingly) natural language as well.
The third and last category of chatbots are what companies like IBM are now working on: bots that fully "understand" what you mean by interpreting your questions within the relevant context of the service, your browsing behavior and "experience" with previous customers. The results are impressive, the bot is always available, remembers everything it was "taught" and, on top of that, stays polite at all times.
The times that web shops or even generic websites were closed outside working hours, and that customers accepted this, are long gone. In a rapidly commoditizing world, many companies want to address you, the target audience, around the globe. To get you, they'll try to be At Your Service, 24/7.
Sources:
– Image source: Flikr, user Tom Magliery
(This article first appeared in the Dutch Chamber Magazine, publication of the Dutch Chamber in Hong Kong)